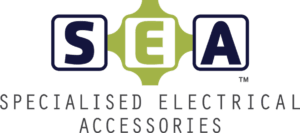 SPECIALISED ELECTRICAL ACCESSORIES
Specialised Electrical Accessories specialises in the manufacture and supply of electrical accessories and pressings.
The manufacturing plant, situated in Durban, produces high quality galvanised electrical accessories as well as an extensive range of PVC accessories. With an experienced production team, Specialised Electrical Accessories is able to directly supply electrical companies and wholesalers with approved products that meet Eskom and regional specific standards.
PRODUCT OVERVIEW
Galvanised wall boxes
Galvanised slab boxes
Galvanised boxes
Galvanised saddles
PVC saddles
PVC couplings
PVC isolator boxes
PVC extension boxes
Geyser and urn elements
Adjusters
For more information please visit www.sea-sa.co.za/