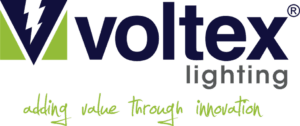 VOLTEX LIGHTING
Voltex Lighting is a lighting and energy solutions developer and provider  specialising in design, manufacture, marketing and distribution of commercial and industrial luminaires and energy saving devices. Voltex Lighting also specialises in energy-saving projects, audits and large lighting design products.
Voltex Lighting products and services are used for commercial, industrial, residential and retail lighting installations from small offices to large commercial sites and warehouses. The Voltex Lighting team can assist clients in identifying inefficient energy and electricity usage by conducting energy audits and can assist clients with custom designs that incorporate the latest technology.
Voltex Lighting also has inclusive products for mining applications.
PRODUCT OVERVIEW
Lascon: Design and supply of architectural, commercial and industrial lighting solutions and lighting management systems, providing energy efficient concepts and applications.
Ligman: Outdoor lighting solutions, bulkheads, post-tops and decorative exterior luminaires.
Hubbell: Occupancy control, daylight switching, industrial and commercial occupancy/energy management.
For more information please visit www.voltexlighting.com/